About Ritter Cycle Racing, Inc
Ritter Cycle Racing, Inc first opened for business on 5 May 1984 in St. Jacob Illinois, a small rural community in South Central Illinois. By the late '80's Ritter Cycle Racing was moving products nationwide from this central US location.
After the release of the Polaris 400L models in 1994, Ritter Cycle Racing began working with the Polaris line of ATV's enhancing their performance, providing rebuild services, and supplying a wide array of specialty repairs and accessories.
Within these pages, you will find parts, performance modifications, accessories, and repair services many of which can't be found elsewhere. If you own a Polaris ATV manufactured in the '80s, '90s, or the 2000's you have found the site you are looking for.
Thank you for taking a look around.

Rick Ritter
I am constantly adding to the website so if you don't see what you are looking for – feel free to call in at (618) 644 3211 or email me. Most times I can assist you over the phone with tech service.
Brought back to life with help from RCR.
My fleet (1994 sportsman is absent from photo). All of these were purchased not running and were brought back to life with help from Ritter cycle racing. If it wasn't for Ritter cycle these would likely be in a scrapyard somewhere. Thanks Rick Ritter!!
Joe Dickens
The oil block off was a great investment.
The oil block off was a great investment on the trailblazer I'll be ordering one of your pipes for it next.
Aaron Wright
Thanks Rick!
Here is a picture of the '83 gold wing you helped me get going! It was ridden from Illinois to Maryland then turned around made it all the way to Oregon! Thanks Rick!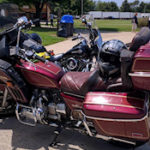 Benjamin Mollet
Thank you for all the help!
I don't think I have pictures of all the four wheelers, motorcycles and snowmobiles that you have helped me with through the years. Thank you for all the help and good times hanging around the shop, much appreciated man!!
Billy Dillow
I just know it's done right.
Love it when someone asks if I know any good quad mechanics. I always say "No I don't know any good ones but I know an great one, Rick Ritter at Ritter Cycle Racing." And then they ask "Is he expensive?" And I say " I don't know, I just know it's done right, I don't want to pay twice. First time if someone else does it wrong and then pay him to fix it the right way."
Matt Jessica
Really hyped it up!
The aaen exhaust, custom clutch kit, hot cam, rzr belt really hyped it up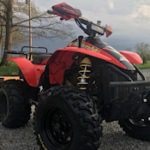 Eli Appleby
Rick is top-notch for sure
RCR has been real good to us we always the fastest Polaris drag bikes out of anyone. Rick is top-notch for sure.
Chip Jones
Won a lot of Open Am races on this thing.
99 sport full RCR built in 2000.
Won a lot of Open Am races on this thing in early 2000's. Retired it, it's still running just put up on a shelf.
Kevin Armstrong
People are always surprised at how fast and powerful it is!
Shipping was super fast the directions were easy to understand. What a change it made to the quad!!!
2000 Scrambler 400 2×4
-Trail port RcR
-83.5mm Wiseco
-HSP 12:1 billet head
-V-force 2 reed
-HPD Trail pipe
-HPD MSA Silencer
-Team RR Secondary (Red 105-165 spr/70-60-33 helix)
-HPD (53 gm, Plain spring (primary)
Alternate Secondary Violet sec /2-3 setting, stock 40 deg helix.
-HPD Chain tensioner
-Fox struts
Jim Pardo
Customer service still exists.
Read so many good things about Mr. Ritter and his exhaust kit for the Polaris trailblazer 250. I sent him a friend request late one nite and he called me and we talked about the kit. This man knows his stuff and it was like I was talking to a friend. I ordered the kit a few days later. Shipping was super fast the directions were easy to understand. What a change it made to the quad!!! Woke this thing up a bunch! Thank you Mr. Ritter for taking you time to talk to me answer all of my questions and for an amazing kit for my quad.
Mike Attkisson
Attkisson automotive
Great products and services!
Couldn't have done it without Rick and his parts! Great products and outstanding customer service. I messaged him once on a Saturday evening with a question and got a reply to call him, I don't think he takes a day off! My son's 2000 trailblazer with RR oil pump block off kit and cable, pipe kit, chain and sprockets, carb jets, hood, exhaust shield.
Don Coy
I only wish I had called Rick sooner …
Rick Ritter knows his stuff. I'm not a mechanically inclined guy more than an oil change, tire rotation or brake pad swap on a car.
My 2001 Polaris Trailblazer needed some acceleration and a way to stop the chain brakes when I jumped it as well as carb issues with starting reliably.
Rick put me a package together on a chain tensioner spring wheel thing, new upgraded transmission belt, new upgraded clutch parts and springs, high flow air box mod, full exhaust with spark arrestor, and had me send him my carburetor.
He walked me through taking it off over the phone.
He sent me it back with the kit of other stuff mentioned.
He answered the phone and helped me through the clutch parts and carb reinstall gave me the pointers I needed to get everything back on and be sure I didn't make a mistake.
My quad came to life.
I was a guy that could "ride the hell out of it" and keep up with faster larger motor quads on the trails before it, but ended up keeping chain master links on hand for jumps because I broke them about every other time it. After Rick's help, carb mod and kit, I was the dude smoking much faster quads on the trails and never broke a chain again.
That order was 2006, never had a problem with any of it. Top speed on that quad was like 52 mph got about 55 mph after, but the 0-top speed went from 3 to 4 seconds to about 1 second after which is what helped me carve up much faster quads on the trail.
I fully recommend Rick he's a good dude took exceptional care of getting me the right stuff and even talking me through the install myself since I lived states away.
His price for the full package I got was half what other companies wanted to sell me, but his kit gave me all the usable power I wanted, instant throttle response and gave me the ability to push my quad without breaking the chain all the time from jumping it.
I only wish I had called Rick sooner I bought my quads in 2001 brand new and missed years of all that extra fun and reliability I could have had.
I had 2 matching quads, i only modified my main that I road and left the one for friends stock. When the carburetor on the unmodified one started acting up but still ran, Rick even let me pay a deposit to get a fixed one in the mail he refunded me when I returned mine after install so that I didn't have down time on my back up quad.
Really good customer service, the guy lives this stuff like we do.
I know it's been years, but wanted to give a testimonial because people need to hear it.
Thanks again Rick
Michael A Tressler
Rick is a very straight forward
Rick is a very straight forward and honest man. He has answered every one of my questions with great detail. Talking to rick is like talking to an old friend, he's extremely honest (I know I said that already, but I cant stress that enough, other places will grab ahold of your money and run – not the case with Rick) and goes over and beyond to give people the best services he possibly can. 5/5 stars, I will be a returning customer.
Thank you!
Ken Wyman
Absolute best there is!
What more can be said, Rick has done more for me then I can Thank him for, a true professional and always willing to go the extra mile to keep you rubber side down and on the trail riding instead of wrenching. Thanks for over a decade helping me with my garage of quads.
Thomas Brown
Right with Rick
1996 Polaris Xplorer 400L
Sport air box and hi-po filter
Stock carb boring mod and rejetted
UFO slide modification
Boyesen Rad valve
Cylinder trail ported
Wiseco .25 mm over piston
Cylinder head mod for 91 octane gas
Cylinder front mounting bosses strengthened
Crankcase welded strap mod
Aaen trail pipe w/silencer and spark arrester
Flywheel lightened
Drive and driven clutch springs installed
Built and riding since 2016.
poweR, poWER, POWER!
100% reliability rate. Never broken down.
Consistently outruns 600/650 machines.
These mods are the ultimate for riding and reliability. There is nothing like the performance and sound of a Ritter 2 stroke. Thank you Rick!
Joe Anderson